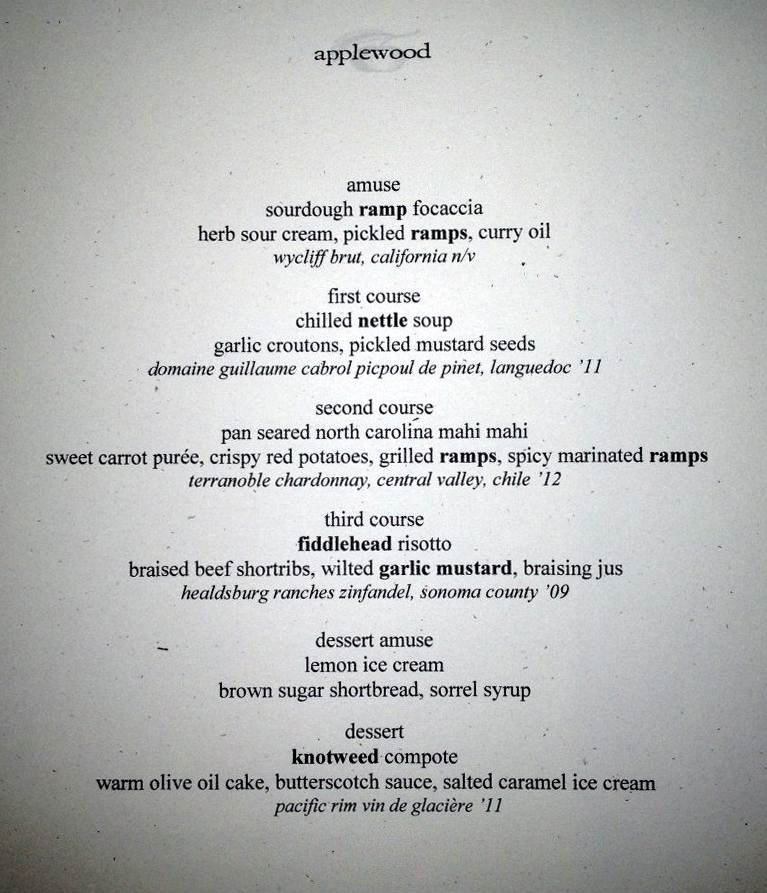 Recipe from Sam Shirman of Applewood
Featured at Applewood's 5/28/13 Meet the Forager Dinner with Delaware Valley Ramps
Ingredients
3 leeks, chopped
10 cloves of garlic
1 onion, chopped
2 sprigs of thyme
4 bay leaves
1 tsp of black pepper
4 large peeled and chopped potatoes
2 quarts of vegetable broth
2 lbs. stinging nettles
Preparation
Saute together over medium low heat the leeks, garlic and onions until translucent.
Add the thyme, bay leaves and black pepper.
When the vegetables are soft add the potatoes.
Saute over low heat for another 15 min then add the vegetable broth, and simmer until potatoes are cooked through.
Puree the potato mixture together in the blender and chill.
Cook the stiniging nettles in salted boiling water until wilted (maybe 3 minutes) then remove from the water and put them in an ice bath.
When they are cold remove from ice water and puree until smooth.
When the potatoes are cold mix the two purees together and season to taste with salt.
Serve garnished with herb croutons and bacon and pickled mustard seeds.
Other Ramp Recipes
Rampitini
Potato and Ramp Vichyssoise
Applewood's Chilled Nettle Soup

Ramp Soup
Ramp and Sausage Risotto
Seared Salmon with Linguine and Ramp Pesto
Send us your own recipes